Summer is approaching, and many of us are preparing to slather our kids with sunscreen before we head out. There has been lots of recent news about sunscreen and the harsh chemicals it can contain. But the best way to protect our kids is by reducing their exposure to the sun and covering up that skin.

Now this is an easy one for boys. Most stores carry cute rash guards that cover their chests and arms, and it's not difficult to find below-the-knee trunks for our little guys. But what about our daughters? I've been more and more dismayed as I shop for full-coverage swimsuit options for my fair-skinned little girl. It seems like most retailers are sending the message that our daughters should have a majority of their skin bare and exposed to the elements. I got so fed up after a trip to a few store only carrying teeny bikini's that I finally broke down and bought my daughter a long-sleeved swim set from the boy's department. But why not offer this in pink?



Mama Manifesto wants to give a shout-out to the following stores for offering full-coverage swim options for both genders:
Sun Protection Zone
is a great find for kids of all sizes. They offer full-coverage swimsuits from 3 months and up, in bright, vibrant colors. I love that I can put their all-in-one suit on my baby, cover her heard with a hat, and not have to worry about slathering her with chemicals. All of their products are SPF 50+.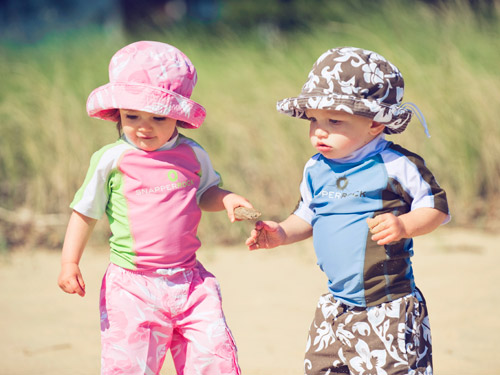 Snapper Rock
UV50+ swim-wear was developed when a mom couldn't' find any sun protective clothing that wasn't red, white, blue and yellow. Their one piece sun-suits and bucket hats have been a huge hit with moms, as well as board shorts and matching rash tops, and swim sets for girls.