This, dear mama readers, is a public service announcement...
Bathing suit season is rapidly approaching.
AUUUUUGHHH!
Lets all breathe deeply and think about how the sun-filled excursions are absolutely more about the fun had, rather than the way we look.
That being said, wouldn't it be nice to be slightly more toned than we are today?
Actually, wouldn't it be nice to be able to find a work out regimen that you can fit into the nooks and crannies of YOUR free time. How about a personal trainer to guide you on your fitness journey?
Well, this week we have a giveaway that will do both.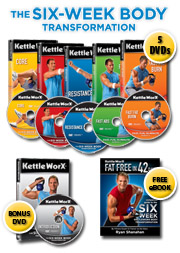 KettleWorx
is going to give a lucky mama their own "
Essentials Package
", which will take you on a 6 week journey of training and transformation. Here is one of the best features of the program - it works, and it honors the busy mama schedule. Each workout is about 20 minutes long. Quicker than a Spongebob episode. Each work out also addresses the core, cardio and resistance. KettleWorx will also include a 5 pound or 10 pound kettle ball (you decide which you would like).
The Essentials Package with a 5 pound kettleball, including the Six-Week Body Transformation Series—(Personal Trainer at Home Program):

INTRODUCTION DVD
CARDIO
CORE
RESISTANCE
FAST FAT BURN
FAST ABS
CD (E-BOOK) Fat Free in 42 Companion Guide

To be entered in this giveaway, please leave a comment answering the following question:
"What is your FAVORITE part of your body?"
How to earn additional entries:
1.) Become a follower on our blog (publicly) and leave another comment (or let us know if you already are).
2.) Subscribe to the Mama Memo by
clicking here
and leave another comment (or let us know if you already are).
3.) Blog about this giveaway- with a link back to here. Post YOUR blog entry first and then the comment.
4.) Add the Mama Manifesto button to your sidebar.
5.) Follow us on Twitter AND Tweet about this giveaway. TWEET- "Giveaway- win a KettleWorx workout set from @MamaManifesto. Enter at mamamanifesto.com"
6.) Become a fan of Mama Manifesto on Facebook by clicking the button on the left!
[this giveaway will be closed on Saturday at 11 PM; the winner will be announced next Sunday!]
And now for the winner of last week's giveaway:
(((Jennifer Parke Photography)))
Congratulations! Shoot us an email by 5/2 to mamagiveaways(at)gmail(dot)com with your prize in the subject line, and we will hook you up! Keep checking back for more great giveaways!