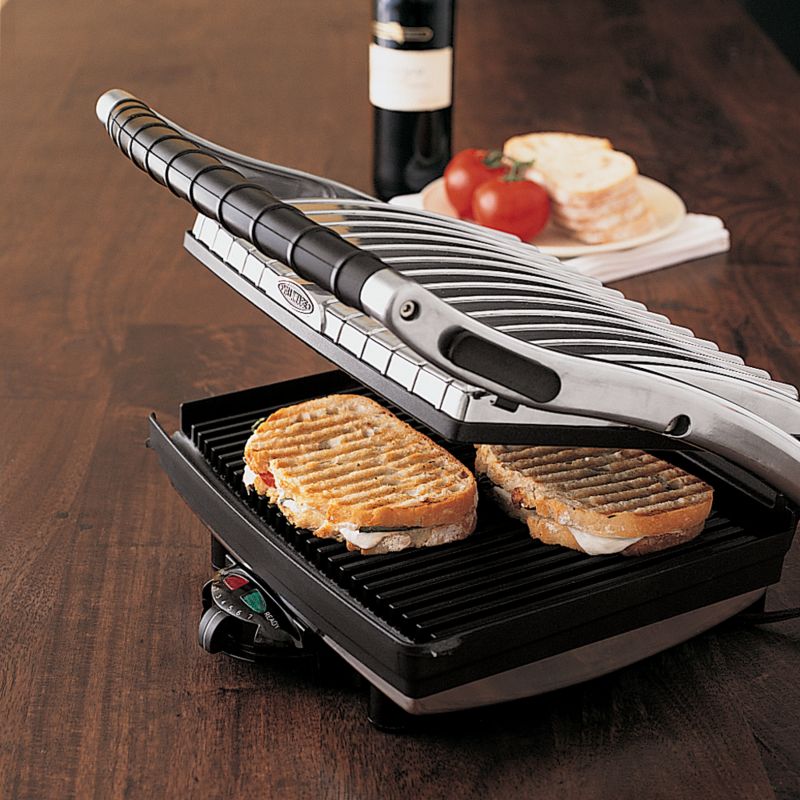 My new favorite way to do lunch is to make a panini. Take any sandwich and make it into a panini, and it is instantly better! It's like taking a regular piece of apple pie, and making it a la mode. Better.
Here are some of my favorites:
Ezekiel sprouted wheat bread
1 Tablespoon Pesto
Sliced Turkey breast
Provolone cheese (or your fave)
** Spread the pesto on the bread, make your sandwich and then press in the panini.
This is amazing with Trader Joe's low sodium roasted red pepper and tomato soup!
Peanut Butter, Banana & Agave
Ezekiel sprouted wheat bread
1 Tablespoon all natural crunchy peanut butter
Drizzle of agave (or honey)
Sliced banana
** Spread the PB on the bread, drizzle with agave, and layer in the sliced bananas, and then press the panini. It is like a dessert. (When I really need a sweet treat, I am going to toss in a few chocolate chips. Only in mine.)
Chicken & Mushroom Panini
Ezekiel Sprouted whole wheat bread
pre-sliced cremini mushrooms
some minced garlic
1 tablespoon chopped sun-dried tomatoes, packed without oil
sliced chicken breast (perfect way to use leftover grilled or rotisserie chicken breast)
1 slice provolone cheese
** Saute mushrooms and garlic in a little olive oil or in cooking spray. Spread mushroom and sun-dried tomatoes over bread, top with chicken and cheese. Press the panini until melted and bread is gently toasted!!
I have a
panini maker/indoor grill
that I use when making my panini's, but you could simply use a heated skillet and a heavy pan on top of the sandwich.
Do you have any favorite panini recipes? What sandwich would you like to try as a panini?