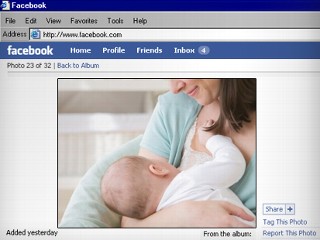 In case you haven't heard, there is quite a stir going on at Facebook about breastfeeding shots. Several months ago, Facebook deleted any photos of women breastfeeding their children. The removal of the photographs has many women outraged.
Some who post the pictures believe the photographs are helpful to other women, while others find the pictures offensive. Some believe that breastfeeding is a private matter between mother and child and should not be posted online. Others find the pictures beautiful.
What do you think? Should these photographs be removed? Are they obscene or is it discrimination?